About CASE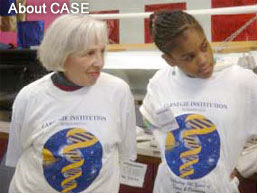 Scientific literacy is now recognized to be crucial for our nation's progress in the 21st century. The Carnegie Institution, a preeminent basic research organization, has fostered the development of scientific knowledge since the early 20th century. For many years this meant the training of graduate students and postdoctoral fellows in the Institution's laboratories, located in D.C. and around the country.
In 1989, Maxine Singer, then president of Carnegie, founded First Light, a Saturday science school for children. This was the start of the Carnegie Academy for Science Education (CASE) whose goal is to encourage interest in science among school children and teachers in Washington, D.C. First Light remains a lively program for children.
Since 1994, CASE has offered professional development for D.C. teachers of science, mathematics, and technology. Emphasis in all programs is on inquiry-based, hands-on approaches to learn and teach the processes and content of school science.